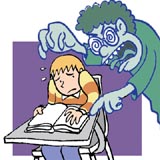 Lean, mean, and green!


The new teacher is mean
"I heard my new teacher is mean. I'm afraid she's going to yell at us a lot and have really strict rules," says Matthew.
"Do you remember who told you the teacher is mean?" asks Emily.
Matthew remembers that Calvin was making a lot of noise and wouldn't stop, so the teacher had to send him to the principal's office. "That's why he said she was mean," he figures.
Matthew's solution is to give the new teacher a chance. "I may like her!" he says.
School work is too hard
Turn off television and music!


Emily worries that school is getting harder. She says, "I freeze up when I have to take a test."
Emily's come up with a couple of solutions:
Ask a parent to help you study for spelling tests by reading the words and checking your spelling.

Calm down at the start of a test. Emily says, "I take a few, slow, deep breaths (not gasps). Then, I put my attention on the test rather than on being nervous."
Break down big projects into parts that you can do each week. Emily says, "It's not a rush at the end. I put the steps on a calendar in my room."

Set up a study center for doing homework, with your school supplies handy.
I have the wrong school supplies!
Matthew says, "What if I have the wrong school supplies or forget something?
This year, Matthew's ready:
"I'm putting everything in my back pack three days before school," he says.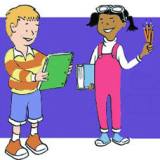 Get Ready!


Final thoughts
It's normal to worry about school. Here are a few ideas:
"When grown-ups tell you, 'Don't worry, you'll be fine,' they're trying their best to help you. But it probably won't make you feel better. Say thanks and do the things on our list," says Emily.

Matthew says to "get out and run around. Look at the sky, grass and other things outside. Then, your problems don't seem so big."

Eat right and sleep right. "Put fuel in your tank that makes your body and brain work. Go to sleep on time," says Emily.

Talk to somebody who cares about you. Matthew says that talking about fears makes them smaller. "You also might get ideas on what to do."

True or False: After moving from their farm in southern Indiana in 1830, the Lincoln family first settled in Springfield, Illinois.

Click Abe's head for the answer.

FALSE: The Lincoln Trail Homestead State Park, 10 miles west of Decatur, Illinois, marks the spot where the Lincoln family first settled after moving from their farm in southern Indiana.