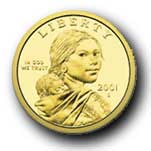 It's real gold, right?


Isn't it?
It is not. It's another pure copper core sandwiched between layers of manganese brass, made up of 77% copper, 12% zinc, 7% manganese and 4% nickel.
Like the linen-cotton blend used for dollar bills, the metal mixtures used to make coins were chosen to make the coins as strong as possible.
The U.S. Mint estimates the average life span of a coin to be 25 years. Compare that with the life span of different bills:
A $1 bill will typically remain in circulation only 18 months.
A $100 bill, which is handled far less often, will last for nine years.
Find an older (from the year 2000 will work) Sacagawea dollar coin. What does it look like now?They Get Old FAST!
Close
The first "gold" Sacagawea coins that appeared in 2000 were a bright and shiny gold color.
But when you see those same coins now that they have been circulating for a few years, they look a lot less shiny.
The brass surfaces darken with age, although the different alloy blend will prevent them from darkening as much as older pennies do.
Learning about money can be really rewarding and entertaining. Here's a fun game that lets you design your own bill. Also, 5-Spot offers games about money like "Flipped Wigs" and "Chip Away." Go explore the fun world of money!

True or False: When Lincoln was young he worked for 25 cents a day.
Click Abe's head for the answer.
TRUE: He chopped trees and dug wells for 25 cents a day.