Who Sets the Price?

Concert tickets to see Brittany Spears are expensive, but there's only one Brittany Spears. Mark McGuire is paid millions to play baseball, but he's hit more home runs in a single season than anyone else. Why? It's all about supply and demand.
These two seemingly simple words form the basis of our market economy. "Supply and demand" affects you in more ways than tickets to concerts and baseball games. The cost of most everything you buy is determined by supply and demand. This is how it works.
| | | |
| --- | --- | --- |
| Supply describes the quantity or amount of something. In other words, how many widgets are there? Demand measures the desire, willingness, and ability to purchase something. How many people want to buy widgets? | | "What the market will bear" describes the thinking that companies sometimes use to price products. Simply put, it means how much is a buyer willing to pay for something. |
Sometimes supply and demand is like a playground seesaw. When one goes up, the other goes down. As the demand for widgets goes up, the supply goes down. When the demand goes down, the supply goes up. And this seesaw action can affect the price of widgets. If widgets are scarce, those who want them often are willing to pay a premium price. When widgets are plentiful and demand goes down, sellers may need to lower the price - in other words, put them on sale--so people will buy them.
When you're hot, you're hot
Remember Furby and Tickle-Me-Elmo? They were hot holiday gifts that many people paid high prices to get before Christmas. After the holidays, when the supply met the demand, the buying frenzy ended and anyone who wanted Furby or Elmo could easily find them on store shelves. In economic terms, when a product or service is popular and hard to get it's deemed to be in short supply.
Short supply can cause the price of products to increase temporarily. When Furby and Elmo were hot commodities, people gladly paid full price for them. When the demand for the toys dropped, stores had to run sales to get buyers to purchase them.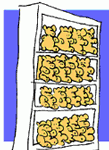 Can companies deliberately cause a short supply? Sometimes, but it's difficult to maintain because other companies could create similar products to meet the demand. Usually short supply is caused by immediate demand for something new…which is what happened with both Furby and Elmo. Each Christmas, something pops up as the seasonal favorite. Last Christmas, it was Pokemon cards. Who knows what it'll be this year?
Toymakers are masters at creating demand for what they hope will be the hot toy of the season. If they're right, they'll make huge amounts of money. If they're wrong, they'll miss the year's prime buying season. It's risky because buyer likes and dislikes are difficult to predict. One company that succeeded in creating demand for its product all year is Ty, Inc., the maker of Beanie Babies. Ty, Inc., effectively controlled the supply of each character and used the media to create demand for new characters before they hit the market. As a result few Beanie Babies were ever sold at a sale price.
Now about the price of burgers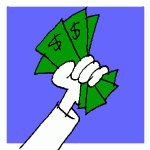 Pricing is a key factor that also affects supply and demand. Let's go to your school cafeteria to see how this plays out. At $2.00, burgers are a popular lunch choice. In other words, they're in high demand at that price. If you're at the end of the lunch line, you might have to choose something else because the demand could be greater than the supply, and the burgers will be gone.
Now, what if the price of a hamburger was $4.00, and every other lunch choice was $2.00. Wouldn't you agree that hamburgers would likely be available for the last student in line?
| | | |
| --- | --- | --- |
| But what happens to the demand of burgers in light of other choices. Burgers are still $4.00 each and other lunch choices are still $2.00 each. But the other lunch choices are liver stew, seaweed on rice, and turnip soufflé. How high would burger prices have to go before hungry students would choose the other lunch choices? This is a magic question that companies struggle with to set the right price. | | Demand is difficult to predict...500 million new Sacagaewa golden dollar coins are already in circulation. But people want more, and the U.S. Mint is working hard to meet the demand. |
These are complex concepts, but understanding some of these market forces will help you see why entertainers and professional athletes make so much money--and the price of burgers.


True or False: Andrew Jackson held parties at the White House and opened them to the public. Click Andrew's head for the answer.
TRUE: Jackson was known for allowing the public to attend his White House parties.
Tweet