Smart Shopping, Smart Savings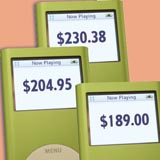 Save yourself $40—do some comparison shopping.
You've been saving for months for a 16GB iPod Nano. Your discipline has been heroic. No fast food. No video arcade. No reckless spending of any kind. At last, you're ready to buy.
First, take $40 from your savings and feed it into a paper shredder.
Wait...What?!?
Do some comparison shopping
You'll throw money away if you don't comparison shop. I did, and in less than five minutes of searching online, I found a 16GB iPod Nano for $204.95.
A few clicks later, I found the exact same iPod for $189. And shortly after that, I found one for $149.00.
So what's the deal? Why are the prices so different?
The man in the middle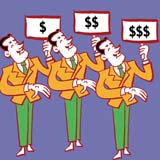 Why would one middleman charge more than another?
You can find the same brands of soda at many different stores, but the prices aren't necessarily the same. The difference is the middleman's profit.
There's no rule that says a store owner has to charge the same as everyone else.
A store is a middleman, or a go-between. The store buys from the manufacturer (in the case of soda, the bottling plant) and sells to the final buyer (you).
The middleman usually buys in large quantities at a discount. Then the middleman sells the product for more than he paid for it.
What's a teenager supposed you do? Meet Alex, 12...
Tweet