Make your own compost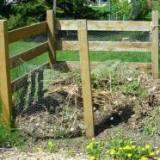 How to make a compost bin.

As the food scraps build up, keep them in a bucket under the sink or next to the trash can. Toss the food scraps on your compost heap.
You'll want to add a few other ingredients to your heap to insure that composting takes place.
Make sure that you don't put any meat in the bucket or compost heap, or you will get raccoons, rats, stray cats, and other rodents climbing into your compost for a snack!
Turn your compost about once a month to let air circulate. Then every spring, you get rich soil to use in your garden!
Lastly, to keep away birds you can sprinkle cayenne pepper (in ground form) over the leaves. Cayenne pepper can be found at most food stores.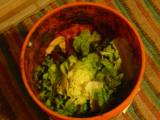 Think of what's coming…

Live and Learn
About two weeks later, we were delighted to see that our pumpkins were growing fast.
Two weeks later, they were still growing.
In August, they were still growing. Our pumpkins had gone "divide and conquer," spreading their vines all across the garden, across the paths, and up the sides of the fence. They were taking over the entire garden!
My mother tried to "turn the plants around" by switching the way the vines were facing. This didn't prove very useful, and our pumpkins continued to grow.
The plus side, however, was that we had a bumper crop (lots!) of pumpkins that year. And we learned a valuable lesson: "Give the pumpkins their space."
While it's good to know the common mistakes gardeners make, you will make mistakes along the way. If you can accept your mistakes and learn from them, there is no doubt that you will be a master gardener one day.

True or False: The White House is the building that is displayed on the back of the $5 bill, the one with Abraham Lincoln's likeness on the front.
Click Abe's head for the answer.
The Lincoln Memorial--also in Washington DC--is on the back of the $5 bill. The White House is on the back of the $20 bill, with Andrew Jackson gracing the front.