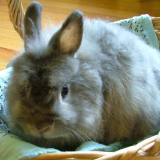 How much? Use the 5-Spot Pet Cost Calculator to find out!


How much is that bunny in the window?
Pet ownership takes money. Costs range depending on the type of pet you have and include:
Food
Toys
Cage
Veterinary care
Grooming
Bedding or litter
Unexpected things happen and the costs can add up.
Here's a story about Hannah, a kitten:
Hannah ended up at the hospital because she was playing with a candle and got hot wax all over her paw.
It was Christmas time so it cost extra money. The holiday was off-hours at the vet's.
Companions for life
Emma says, "Find out what your pet needs at Pet Health 101."


Owning a pet is a lot of responsibility. It can take a
great deal of time and present problems
.
But if you know what to expect before you get your pet, you'll have a special companion for many years.

True or False: Lincoln was watching the play 'Annie Get Your Gun' at Fordís Theater when he was assassinated.
Click Abe's head for the answer.
FALSE: He was watching the play 'Our American Cousin' at Ford's Theatre.