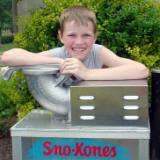 What's your favorite flavor?


I have always wanted to own and operate my own business. Sure, I had tried a lemonade stand on the corner of my street, but that wasn't what I meant by "business."
One night I asked, "Dad what can I do to have my own business?" He remembered when he was growing up there was a kid who would sell snow cones around the neighborhood. He worked from a trailer attached to the back of his bike.
I thought of how much I love the fruity shaved ice on a hot day. Ryan's Sno-Kones was born!
First the dream, then the machine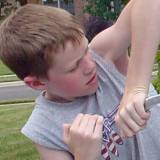 Crankin' it out on my first snow cone machine


I researched to find a nice, but used snow cone machine. The machine and start-up supplies cost about $500.
I saved my birthday money and allowance for a month or so, but wondered—how would I ever reach $500?
After talking this over with my dad, we decided the best way to go would be to borrow $25 each from family and friends, and
pay them back
with interest.
Once I got enough money, it was time to figure out how much I would charge for the snow cones.
My sister Kristen likes blue raspberry.


What to charge?
I planned how much to charge by thinking, "What would be a good price, so that I would make money (profit) without it being too expensive for the customer? What price will the customer think is good deal?"
The pricing job took a while to complete. I talked to my dad, and did my own research on how to decide on a price. It was like the 5-Spot game Lemonade Mega-Stand.
After I figured the initial pricing, I separated my business into two divisions...